..:: PRODUCTS ::..
PT TOYA INDO MANUNGGAL is aware about customers needs. Therefore, we will always in phase of fulfilling customers needs based on the product requirements with competitive quality and price in the market. Our product quality is guaranted by Certificate of Analysis attached on the packaging. All of our products has gone through a series of safe and complete required production process. All of production levels are run and strictly monitored by expert technicians which guarantees the final result. Our laboratory facilities are equipped with sophisticated tools which support the accuration measuring of the chemical materials produced.
Here are our general chemical product :
Hydrochloric Acid (HCl) 32%

Caustic Soda (NaOH), 32%, 40%, 48%, 98%

Activated Alumina

Sulfuric Acid (H2SO4) 98%

Sodium Borax

Sodium Hypochloride (NaOCl) 12%

CaOCl2 Powder 60%, 63%, 70%, 90%

Chlorine (Cl2) gas (99%)

Hydrazine

Soda ash (Na2 CO3)

Sodium Meta Bisulphite

Amonium Bifluoride 98%

Phosporic Acid (H3PO4) 85%

Aquadest

Garam (NaCl 99%) ex Australia, Jordania

Amoniak Liquid 25%, 99%

Calsium Carbonat (CaCO3)

Calsium Oxide (CaO), Lime Hydrate (CaOH)

Ion Exchange Resin

Lime Hydrate (CaOH)

Citric Acid

Carbon Active

Poly Aluminium Chloride (PAC)

Aluminium Sulfat (Tawas) Cair&Padat

Fertilizer Urea, ZA, TSP

Others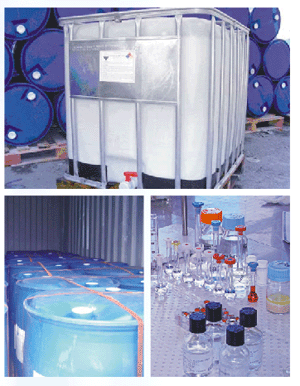 Here are our specialty product :
Water Treatment
Waste Water Treatment
Cooling Water Treatment
Feed Boiler Water Treatment
Chemical Cleaning Agent
Our company has distributes thousand of tons of chemical materials per month. We awns chemical materials back up which guarantees the products avalability in the market in various form (bulk/bag,tube,pail,drum and tank).
High quality products are supported by the company ability in maintaining the product distribution and amount in the market. PT TOYA INDO MANUNGGAL apply steadfast delivery system supported by internal facilities and human resources and also cooperation with qualified expedition and shipment companies. This will guarantee the product in-time delivery and in keeping the product in best condition. In-time delivery is also one of our company priorities which we will maintain in the best phase.